I'll just come right out and say it. I'm not a big fan of spring. Sure I'm glad the cold winter months are behind us (mostly) but the fluctuating temperatures, the falling rain and muddy ground, the brownness of everything that makes up this season also makes me want to stay indoors. Then Kamik sent me a pair of rain boots, inviting me to #stepoutside and I'm extending the challenge to you too.
Often the reason I dread a season is because I feel ill prepared, at least that was my issue with winter. Donning a pair of Kamik Orchid rain boots I decided to give this outdoor thing a try. And you know what? It was fun giving into my inner child. My kids and I enjoyed a little puddle dancing and rock skipping.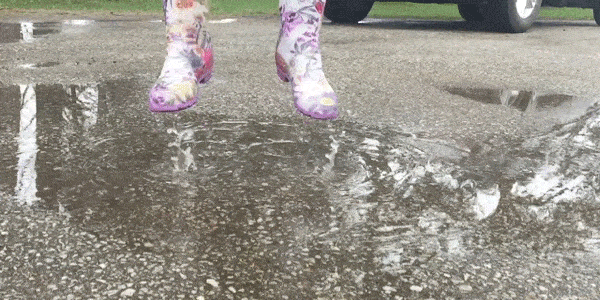 I recently became a fan of Kamik when I was looking for winter boots for my son last year. Did you know the brand is made in Canada and is recyclable? Love finding local brands that are forward thinking when it comes to the environment. The fact that they deliver on warmth and comfort adds to the winning mix. I love that my Orchid boots are so light as well as delivering on style, warmth and comfort.
Kamik wants you to embrace what spring has to offer and get your family involved in a little outdoor challenge. That's why they're running the Step Outside Challenge until May 15, 2016 with prizes to be won.
Here are 5 fun challenges to encourage you and the family to step outside:
Treasure Hunt – whether in your own backyard or the local park, set out to find what treasures spring has in store. We can help get you started with our printable Scavenger Hunt sheet.
Mini Garden – flowers, herbs, maybe some vegetables? Get the whole family involved with preparing a mini garden this spring. This will also help to give kids a better appreciation of nature and how we enjoy a symbiotic relationship. You may find our spring growing guide a helpful starting point.
Puddle Jumping – get a little friendly competition going. Who can make the largest splash? Who can jump the biggest puddle? Who can find the most puddles in the park? Trust me, parents will enjoy this as much as the kids.
Childhood Games – bring out the hula hope, chalk, and jump rope and revert back to some childhood fun. Kids will love teaching you their tricks (and watching you try to complete the challenge). These types of games not only get everyone to step outside but they're an easy and fun way to add a little fitness in a busy parent schedule.
Bike Riding – spring is the perfect time to pull out the bikes and hit the local trails. For added silliness try zooming through the puddles instead of avoiding them.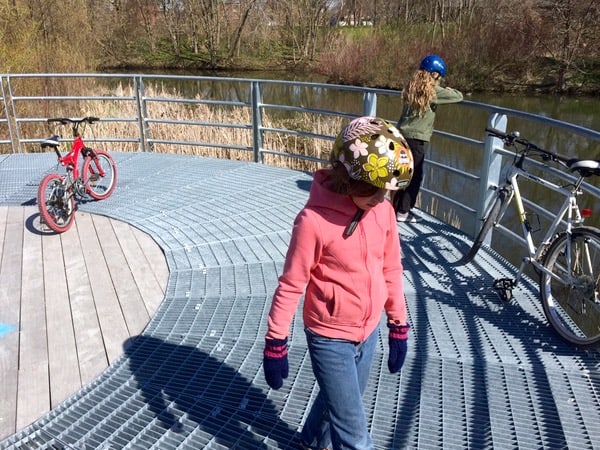 These are just a few fun ways to challenge the whole family to step outside this spring. Kamik has a whole slew of challenge ideas. Choose your challenge and share a photo for a chance to win weekly Kamik footwear prizes and the grand prize of an ultimate adventure. The challenge only runs until May 15 so be sure to step outside this week.
Thanks to Kamik for reminding me that spring is more than just a transitional season. It's a time to get outside and embrace the rain and puddles and mud. The kids will love it and surprising enough, you will too.
How do you embrace spring with your family? What type of challenge do you think your kids would love to complete outside?