Are you stumped looking for stocking stuffer ideas for the family? You're in luck! We've scoured the stores and come up with a huge list of stock stuffer ideas to choose from. Everything is separated by interest, so you will surely find lots of things to fill your sweetie's stockings! Ready? Set? Go!
View in the EverythingMOM Printables Shop!
Stocking Stuffer Idea for the Whole Family
MEDIA LOVERS

WORD LOVERS

TRAVEL / SPORTY / OUTDOORS

FOODIES

GARDENERS

BEAUTY QUEENS & FASHIONISTAS

ARTSY FARTSY TYPES

KIDS

BOYS

GIRLS

BABIES & TODDLERS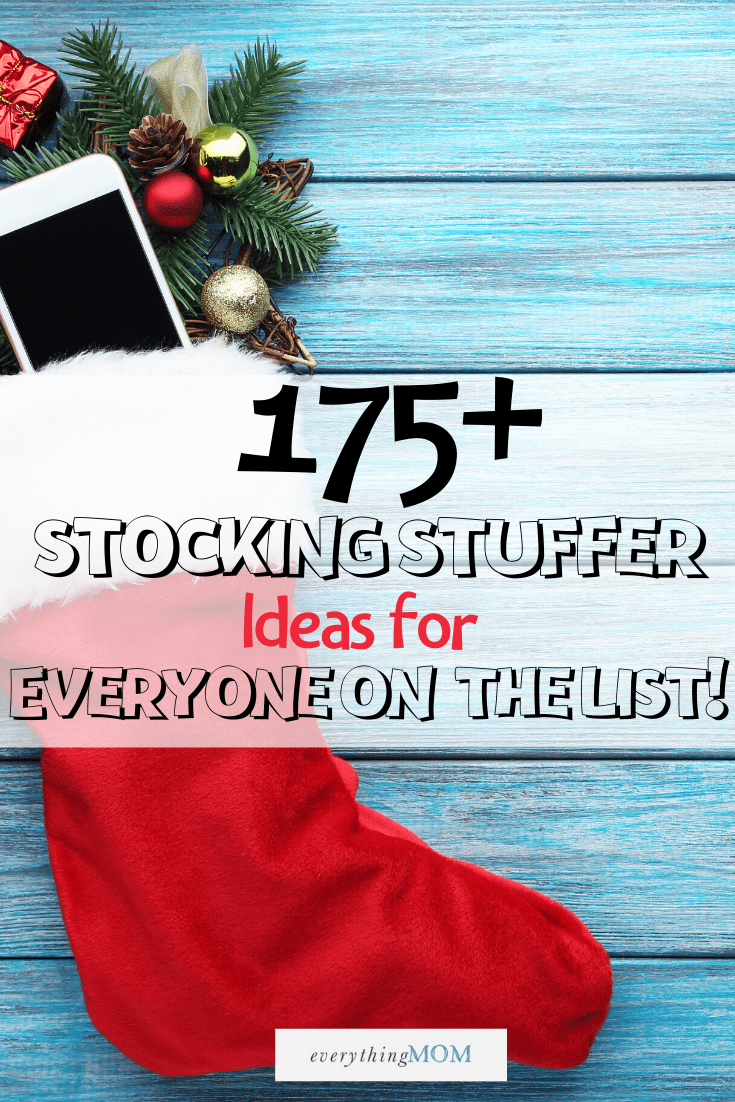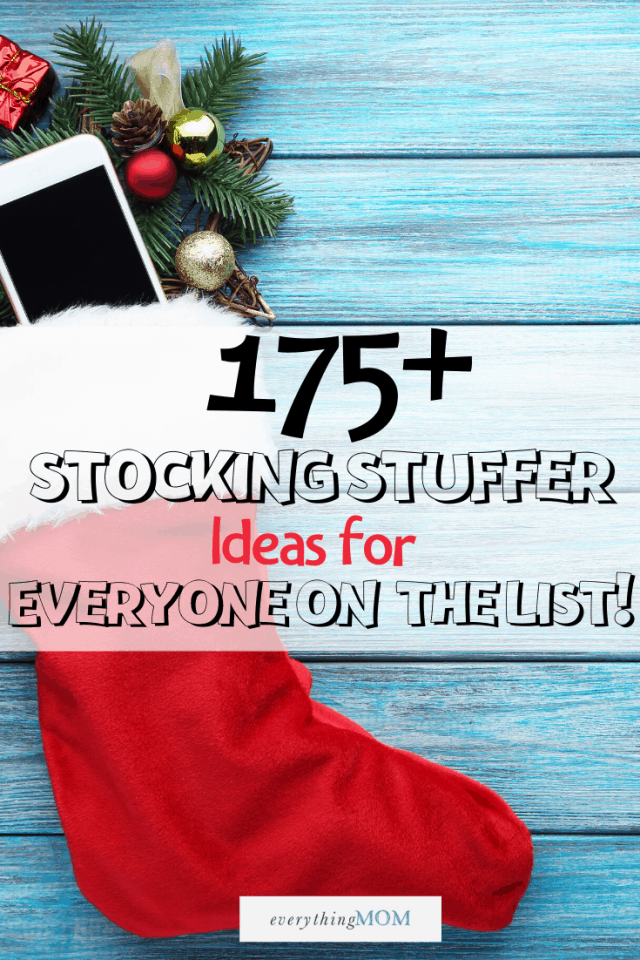 Stocking Stuffers for MEDIA LOVERS
CDs/iTunes card
DVDs
Blank re-writeable Cd's
Memory card
USB drive
Rechargeable batteries
Cloth for cleaning laptop or camera screens
Mini tripod
Mouse pad
A year's subscription to Flickr Pro
Earbuds
Gift card for DVD rentals
View in the EverythingMOM Printables Shop!
Stocking Stuffers for WORD LOVERS
TRAVEL / SPORTY / OUTDOORS
Mini umbrella (I'm always losing mine)
Small picture frame with a fun photo in it
Dog bags (for the pet owner)
Luggage tags
Pocket travel guide
Passport holder
Wallet
Clothing cube
Travel containers for shampoo, etc.
Travel pillow
Water bottle (I like Watergeeks.com)
Gloves
Mittens
Toque
Handwarmer
Neck tube
Bike tire repair kiy
Biking gloves
Travel alarm clock
Pocket doctor
Stocking Stuffers for FOODIES
Gourmet mixes and seasonings (such as Orange Crate)
Gift cards to a favorite coffee shop or gourmet grocer
Specialty coffees, tea, hot chocolate, or apple cider mixes
A tiny bottle of Kaluah, rum, or whatever strikes your fancy!
Kitchen gadgets, such as a silicon basting brush, banana keeper, or a mini crockpot for fondue
Wine bottle stopper
Wine glass charms
Drink stirrers
High-quality measuring cups or spoons
Mabel's labels spice jar labels
Edible ink pens
Good quality cookie cutters
Stocking Stuffers for GARDENERS
Plant markers
Kneeling mat
Gardening gloves
Seeds/bulbs
View in the EverythingMOM Printables Shop!
Stocking Stuffers for BEAUTY QUEENS & FASHIONISTAS
Sherpani wrist purse or shoulder wallet
Pedometer
Hair products
Re-useable canvas bags (such as Credo bags)
Earrings
Cell phone charm
Lotions
Foot butter, nail file, hand cream, and nail polish
Bath fizzies
Slipper socks
Ideas for ARTSY TYPES
Mini foldable scissors
Funky yarn or wool, different sized crochet hooks
Unusual buttons
Plastic tabs for cross stitchers to wind thread onto
Pincushion
Paint, paintbrushes
Sketchbook
Nice pencil crayons or drawing markers
Scrapbooking papers and supplies
Stencils
Stocking Stuffers for KIDS
Christmas ornament
Books
Magazine subscriptions
CDs
DVDs
Travel games
Coloring books
Stickers
Playmobil (there's even a little Santa!)
Yo-yo
Dominoes
Silly putty
Swim goggles
Tickets to the local public pool
Tickets to the local movie theater
Gift card to a favorite place for a treat
Gift card to a DVD rental place
Tickets to the skating rink
Mittens
Hat
T-shirts
Glow sticks
Kazoo
Harmonica
Uno
Skip-Bo
Art supplies (finger paint, paper, felts, crayons, pipe cleaners, etc)
Candy
Fun magnets
Mini Magna doodle
Nintendo DS Character Stylus
Alarm clock
Reading lamp
Playdough and cookie cutters
Slinky
Small puzzles
Plastic animals
Book light (older children)
Flashlight
PJs
Schylling woodpecker (you wouldn't believe how many kids love this thing)
Puzzles
hacky sack
Buckets
Bubbles
Balls
Glow in the dark stars
Stocking Stuffers for BOYS
inexpensive binoculars
Mini tape measure
A wallet (with money in it!)
Fireman's hat
Trading cards
Fridge Rover
Mentos Geyser kit
Meccano
Lego
Compass
Hot Wheels (try hiding them in the tree!)
Yo-yo (or less traditional yo-yo balls)
Small tools (wrenches, screwdrivers, mini hammer) with nails and wood
build it yourself kit from Home Depot
Rocks (check out your local rock shop, put them in a nice bag)
Marbles
Stocking Stuffers for GIRLS
Frontpage Slideshow (version 2.0.0) – Copyright © 2006-2008 by JoomlaWorks
Only Hearts Club doll accessories (clothes, pets, etc)
Webkinz clips
Treasure box
Doll clothes, bottles, and other small items
Coin purse (put money in it!)
Melissa and Doug sticker collection
Funky socks
m3 Snap Caps
Stamps, stamp pad, and paper
Friendship bracelet kit
Bath products
Crochet hook and wool (if you want to teach them how to crochet)
Simple cross stitch kit (pre-teen)
Fairy wand and crown
Tutu (and other dress up clothes)
Costume jewelry
Finger puppets
Ikea Kid's kitchen playsets
Stocking Stuffers for BABIES & TODDLERS
Jazzy Jinglers
Bean bags
Little Scholastic books
Hats, mittens
Board books
Balls
Rattles
Blocks
Peek a Boo Bag
Playmobil
Please Mum onesies
View in the EverythingMOM Printables Shop!
The stocking stuffer gift possibilities are endless!
You can build a theme for the stocking (think PJs, slipper socks, books, new toothbrushes, a small stuffy, candy, and a DVD). Or include things that go with that huge Santa gift. I swear I have more fun with the stockings than buying the big gift, but then again, isn't that half the fun of Christmas? Did we miss any? Add them in the comments!