I love old homes. I the wood burning fireplaces. I love that the dining room, living room and kitchen are all separate rooms. I especially love the wood, high wood baseboards, wood door casings, wood support beams, and wood floors, lots of wood floors. I just wish I enjoyed cleaning them.
Growing up in cookie cutter suburban military homes as a kid, I looked forward to moving into our older home in the city. Our first home was built in 1926 and our current home is from 1909. We even have a heritage plaque out front.
When buying our home, I made an effort of avoiding places with wall-to-wall carpets. If a home had carpeting my husband and I would peek to see if there was some salvageable wood flooring underneath knowing the first thing we would do is rip up the carpet. I kept thinking how dirty carpets would look over time and what a hassle they would be to clean.
Of course it never occurred to me that wood floors would be a cleaning nightmare too. In fact, I think wood floors are more work to clean than carpets. First you have to vacuum and then you have to wash. Who has time for that? As someone who isn't a fan of cleaning (I'm more of a tidier, making neat piles of things), you can imagine how often my floors get washed. Not often.
When I heard about the Bissell Symphony All-in_one Vacuum and Steam Mop I did get a little giddy. A machine that allows me to vacuum AND steam my wood floors at the same time? Who wouldn't want that? But would it work? So many products promise time saving and making the task you loath a little easier but they don't really deliver.
So I tried it for myself. With three levels of solid wood floors (now four with the update to the basement) I had no shortage of space to try out the Bissell Symphony. Having played around with this steam vacuum for a while now I must say I am a fan and here's why:
Ready to Use Right Out of the Box. When we moved into our current house we installed central vac so it has been sometime since I've owned a freestanding vacuum. I expected some installation steps when the box arrived. I was impressed with how easy it was to put together. Just snap, snap, snap and it was ready. The adjustable handle slides up for use and down for storage plus the built in hooks enable the cord to be wrapped out of the way. I just filled the water tank at the back and within less than one minute it was lit up and ready to steam.
Vacuum Without Steam. Yes the reason I love this vacuum is because it can vacuum and steam at the same time so why is the option of just vacuuming a benefit? Well in my kitchen I have a small area rug. With just the vacuum option I can clean this rug and then switch to Vacuum with Steam to do the floors. No need to pull out a stand-alone vacuum or worry about wet rugs. I use this feature all the time.
Bagless Vacuum
. Sure this isn't a new technology but I still love it. The Bissell Symphony uses Cyclone Action for the vacuum. Just pop out the canister and dump in the waste bin. Easy-peasy.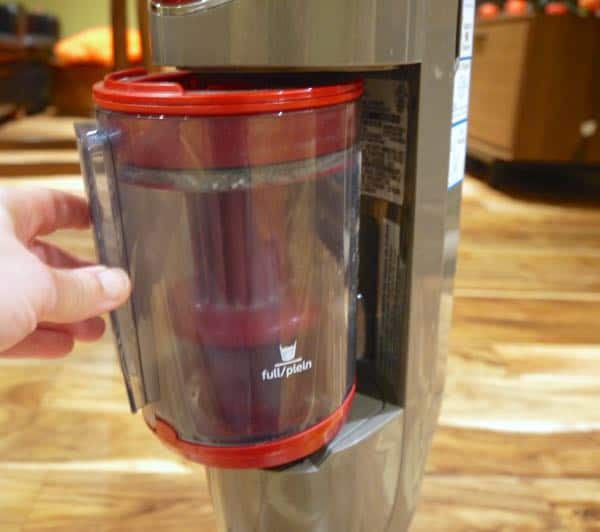 Chemical-Free. I'm not what you would call a green person, I still use products in our home that probably aren't the healthiest, but I am trying to make changes. I'm slowly switching our cleaning products to better choices like Seventh Generation or BetterLife. Some steam products use chemical floor cleaners but the Bissell Symphony is just water and heat. I love that I'm not adding anything extra and the floors still get clean.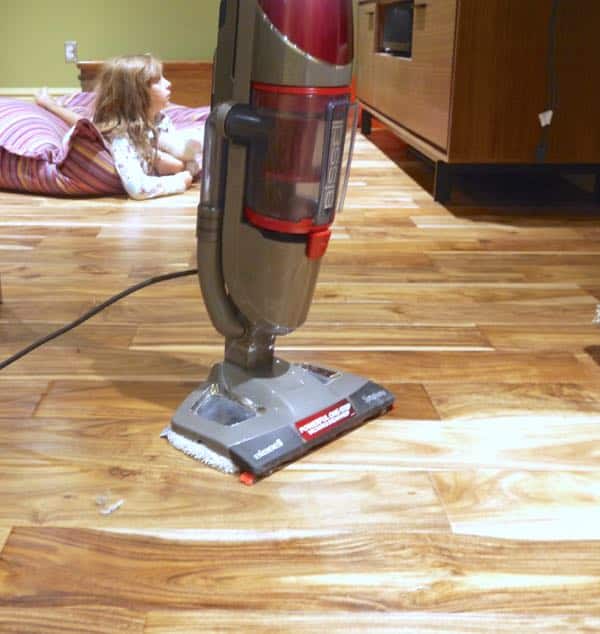 Steam and Vacuum Together. This of course is the best part of the Bissell Symphony. The handle controls make it easy to switch from vacuum to steam, to steam and vacuum together. The two clothes are easy to put on and take off though the cloth plate sometimes took me a little fandangling to attach.
Although you can vacuum at the same time as steaming, I discovered that you have to move the vacuum forward to capture the dirt. A general vacuum you can just move around, back and forth and it gets sucked up. On the Bissell Symphony when steaming and vacuuming you have to move the vacuum with the dirt in front. If I drag it back it just pushed the dirt back. I have even used this machine to steam clean and vacuum my stairs. It's a little heavy since you have to balance the whole machine versus just a hose but it works.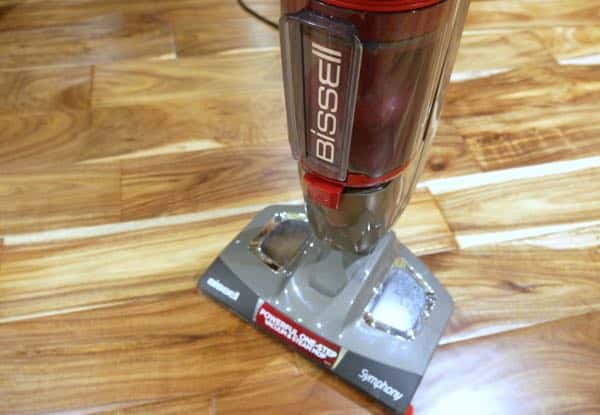 Bottom line, now that I've figured out how best to use the machine, the Bissell Symphony Vacuum Steam Mop is my new friend. It won't make me a fan of housework but it certainly makes it easier to digest. I was skeptical but everything about this machine has impressed me. I may even clean my floors more often but don't hold your breath.
Thanks to Bissell Canada for the Bissell Symphony for the purpose of this review.