As we roll into summer vacation, I have one more Owlcrate Jr. reveal from the May "On the Case" box. I grabbed this as a gift for my son during Owlcrate's box sale. You can pick up their past boxes in their store and enjoy a discount with the MOM10 code.
A Treat for Kids Who Love to Read Mysteries
My daughter loved the two boxes she received: March "Unlikely Friends" and April "Written in the Stars." I've linked to both unboxing reviews above. Unlike the original Owlcrate, which is aimed mainly at women interested in young adult literature, Owlcrate Jr. prides itself on being more gender neutral. I wanted to put them to the test with my son. Unlike my daughter, he wasn't inclined to go on camera, so no unboxing video here. However, both my son and I were impressed with the May "On the Case" box.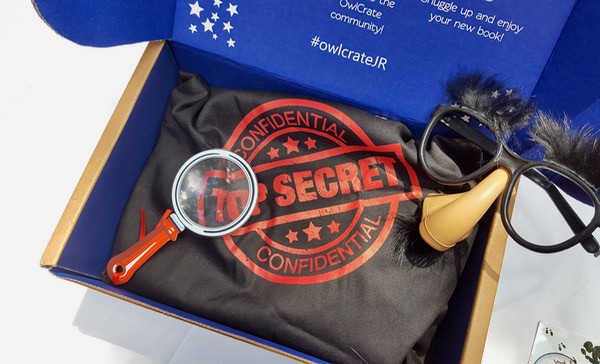 I actually picked it up for him because of the detective focus. He's very interested in mystery and crime and thought this box would appeal to him. The fact that Owlcrate Jr. is a bit of a mystery, like a blind pack, was intriguing to begin with.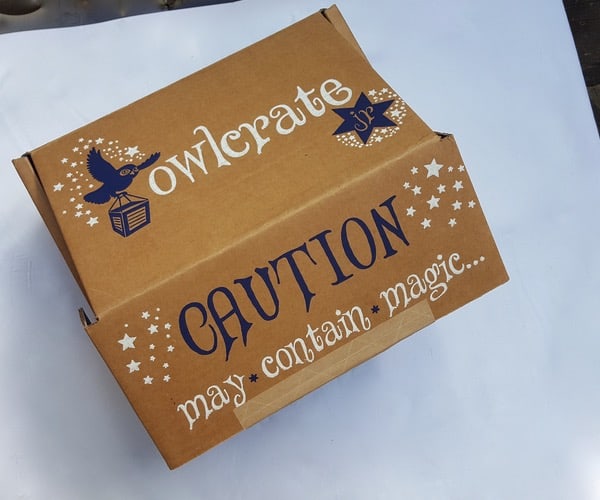 No surprise, the folks at Owlcrate exceeded expectations with the May subscription box. There was a little fun included, like the disguise nose and glasses as well as the detective card. The glasses were kind of popular with everyone, including myself. What a fun way to hangout on the hammock reading this summer.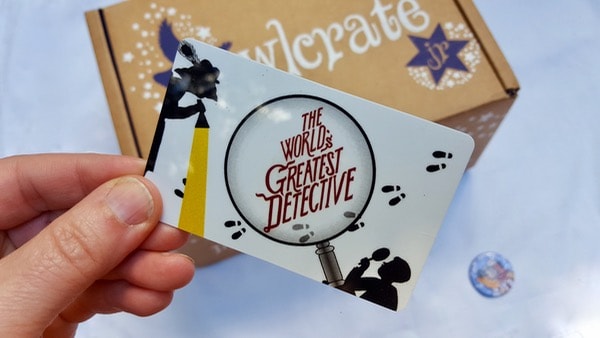 The detective theme for the Owlcrate pin was super cute and already claimed by my daughter. She's started a collection of both the pins (on her school bag) as well as the reveal cards.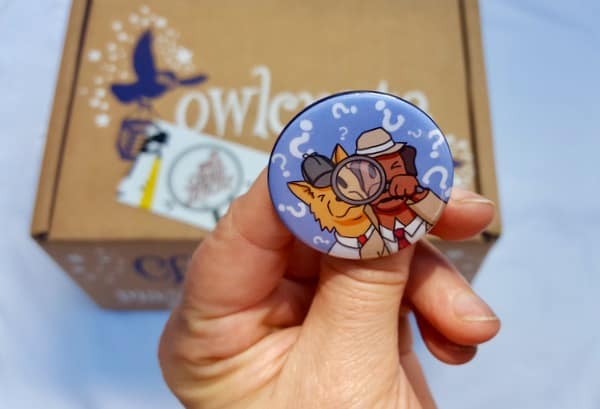 The May Owlcrate was actually two for the price of one. By that I mean two books within one box. The inclusion of the Usborne Activities book, Over 50 Secret Codes, is a super surprise. Remember the post I wrote for Melissa and Doug on Six Secret Codes for Kids? This will give my son a few new codes to play around with this summer.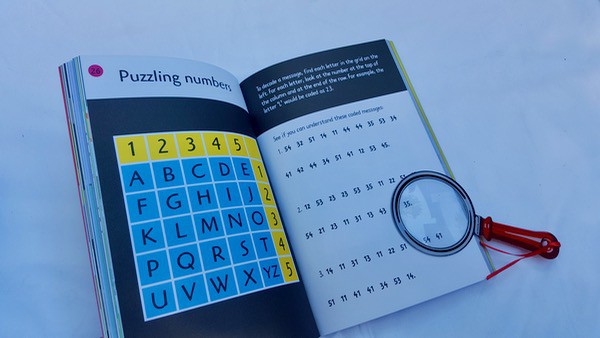 That's not what has me so excited about the May box. It has to be the bookmark from Kirkland. No book subscription box would be complete without a bookmark. My daughter and I loved the Beedo magnetic bookmark in the Unlikely Friends box but this magnifying glass bookmark is now my new favourite. And it actually works! What a great way to tie in reading and sleuthing.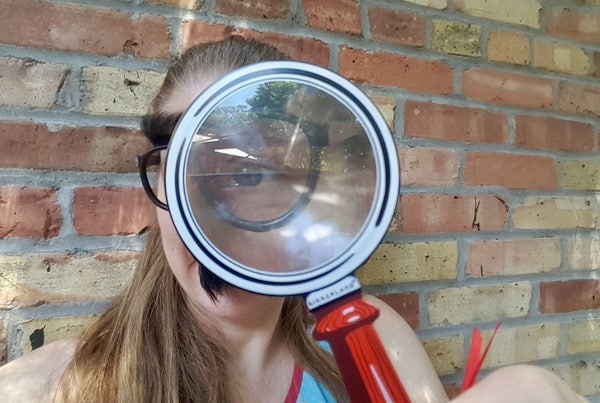 The best part of any Owlcrate Jr. has to be the book. This month's pick looks excitedly fun — "The World's Greatest Detective" from Caroline Carlson (Harper Collins):
a story of crime, tricks, and hilarity for those who know that sometimes it takes a pair of junior sleuths to solve a slippery case.

Detectives' Row is full of talented investigators, but Toby Montrose isn't one of them. He's only an assistant at his uncle's detective agency, and he's not sure he's even very good at that. Toby's friend Ivy is the best sleuth around — or at least she thinks so. They both see their chance to prove themselves when the famed Hugh Abernathy announces a contest to choose the World's Greatest Detective. But when what was supposed to be a game turns into a real-life murder mystery, can Toby and Ivy crack the case?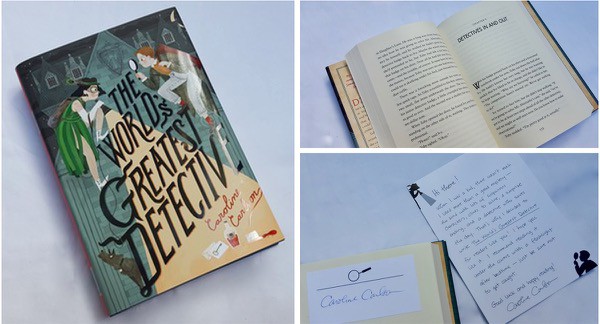 Add to that the personal note from the author, encouraging kids to spend those summer vacation nights reading by flashlight under the covers, and the signed bookplate. I'm looking forward to sharing my review of this book within our Books for Kids section shortly, if I can sneak it away from my son. I may have to do some late night under the covers reading.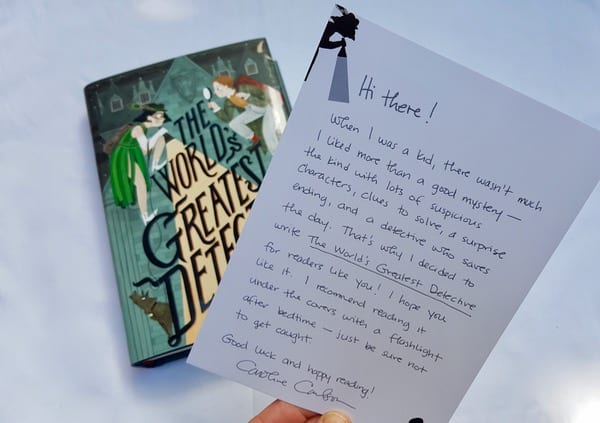 The May "On the Case" subscription box delivered a fun mystery read, rolling the theme of sleuthing into a number of fun pieces. I'm really glad I picked this up for my son. This will be a perfect summer read and the code book with keep my two youngest enthralled in sharing secret messages all summer long. They still had a few copies of this box if you wanted to pick up one for a little sleuth you know.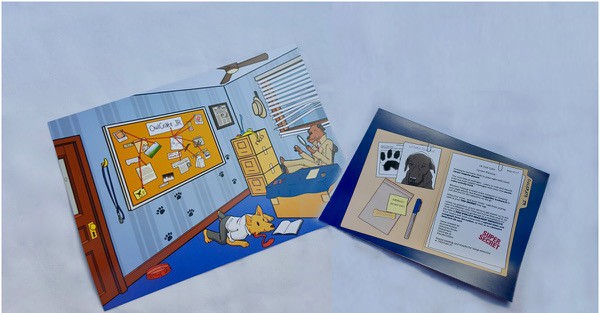 Whether you want to sign up for a subscription period or just buy one box as a gift, Owlcrate Jr is a perfect gift to encourage the love of reading with your tween, boy or girl. This being the third box in our order, each one has been a real treat. Don't forget, if you do want to order a past or future box, be sure to use code MOM10 for a discount.
Happy reading!