The latest from our Heart and Soul
by Nicole from Making it Lovely
I'd like to talk to you about the monetization of blogs, and specifically of my blog,
Making it Lovely
. I announced a new
sponsored project
earlier this week and the responses were mixed. I feel that it's important to address the negative sentiments that were expressed.
I am approached daily with offers of items for reviews and giveaways, free trips, sponsorships, and various advertising opportunities (such as text links). I politely decline nearly all of them. To imply that I am thoughtlessly and greedily accepting every freebie that comes my way is hurtful and insulting. I have always taken great care to be ethical, honest, true to myself, and true to my readers. I don't publish anything that I'm not proud of, and I hold myself to a high degree of integrity and accountability. This blog would be very different if I were only in this to make money. I have always been very selective, choosing only to work with companies that I have used or would use personally regardless of compensation. And now that I'm able to work with a sponsor to share a new project with you that I wouldn't have been able to otherwise? I think that's wonderful.
Many have lamented the fact that so many blogs are being monetized, and they would prefer to see them remain free of advertising. I respect those individuals that blog without any form of payment, but I also have respect for those that have been able to be fairly compensated for the lovely sites that they have created. It takes a considerable amount of time, effort, and money to keep a blog like Making it Lovely going. I pay for childcare so that I have time to write and edit original photos for the blog. I have upgraded my web hosting to ensure that the site loads quickly and without problems for every visitor. I am always taking time to file away ideas, thinking of new ways to share inspiration with you, and documenting projects for the blog. I'm honored and amazed everyday that Making it Lovely has taken off the way it has, but you must know that there is a lot of work involved.
I am lucky to be able to earn an income via my blog. I have been working toward it for years, and I'm proud of all that I have accomplished. I will continue to accept advertising and explore new sponsorship opportunities in a mindful and responsible way, and I thank you for your support.
This post was awarded "The Best of Everything".
Find out what that means >>
Editors Note:
We chose a post from Making it Lovely this week to highlight as part of the Best of Everything. We love her blog and encourage you to check out a few of our fave posts which offer incredible design inspiration:
About the Author

Making it Lovely was named one of the 50 World's Best Design Blogs by the London Times Online, and Nicole's work has been featured in the Chicago Tribune Magazine, Time Out Chicago, ReadyMade, Everyday with Rachael Ray, CS Interiors, and other publications.

A Little More About Me (Nicole Balch)

I'm transforming my so-so house into a lovely home. Follow along, offer advice, or just get a glimpse into the creative process!

When I'm not working on my home, I'm working on my business, Pink Loves Brown. I design and sell cards, stationery, gift sets, bookplates, pins, magnets, and pocket mirrors. Running my business is my full time job, and I love it. When I have extra time, I take on additional design work at Smart & Lovely.

Subscribe to Blog | Her Main Site | Follow Her on Twitter
My husband, while not nearly as good at Words With Friends or Bejeweled Blitz as I am, is almost always emotionally wiser than I am.
This morning over coffee and Marlboros, he dropped this little bit of wisdom on me:
"It drives me crazy when I hear people say 'this is just like high school'. Um, no, actually, it isn't. In high school you didn't have a choice."
He went on to tell me about what a unique social experience high school is because here you are trying to figure out who you are, and you're basically trapped in a very small space with all of these other people who are also trying to figure out who they are. "It's actually pretty cool, if you think about it," he said. "And it's no wonder people talk about their high school years for the rest of their lives. When else will you be forced to find ways to get along with people, whether you like them or not? After high school, it's all about choices."
Genius. Pure genius.
At the time, we were in the middle of a conversation about an experience he's been having with a close friend. But as soon as the "high school" reference flew out of his mouth, my brain immediately went to the Internet. Just yesterday I read a post somewhere about the high school like atmosphere of BlogHer (and my GOD people, are we seriously ALREADY talking about this?). If you've been around blogs for more than 3 days, you have no doubt run across or found yourself in the middle of some form of "drama" or another – and it is freaking inevitable that someone will eventually drop the HS bomb.
As adults, referencing something as "so high school" is the easiest way for us to designate something as stupid or beneath us.
The difference, as Jared so wisely pointed out, is that there is not a single social situation we can find ourselves in as adults that is, actually, at all like high school. Because now? It's a choice.
Good, bad or otherwise, we get to make choices now about who we surround ourselves with. We get to decide where we live and where we work. We get to choose who we spend our nights and weekends with. We get to choose who we sit next to at a party and who we exchange emails with the next day.
As adults, we have a scary amount of control over damn near every aspect of our lives. Control that, if you remember, most of us were dying to get our hands on in high school. Ohhhh, to be young and have someone else to blame again.
Unfortunately, having choices can be kind of a bitch.
Let me go back to the BlogHer reference as an example. (For those of you who aren't bloggers or BlogHers, this is a big annual conference attended, mostly, by thousands of female bloggers.) The "this is so much like high school" usually comes out when one woman feels like she's been snubbed by another woman or group of women. Accusations begin to get thrown around about why someone was snubbed or someone else wasn't. Feelings are hurt, friendships are defended, and before long someone is rolling their eyes and pointing out that "God, this is just like high school all over again".
Except – as we've learned – it's not.
Because every single one of the grown women who attend this conference, and others like it, has choices about who they get to be around. They can choose to be around people who build them up, or people who make them feel like crap about themselves. They can choose to seek out the approval of people they respect, or choose to surround themselves with people who simply respect them. They can choose to try to "fit in", or choose not to give a crap. Every single one of those choices is a valid option with consequences. And whatever those consequences are, we kind of have no choice but to accept that we are responsible for them.
This realization – which I've slowly been coming to myself over the last little while – was a much needed slap in my own face in a lot of ways.
I, too, have been guilty of uttering the "this is so fucking high school" mantra. And I realize now that while those words weren't true, they were a signal to myself that "hey, dumbass, you put yourself in these situations. Whether or not you choose to remain here is also your choice. What are you going to do about that now?"
If I choose to maintain a relationship with someone because I don't want to make waves, I can't be upset with anyone but myself if that relationship causes me stress or feelings of inadequacy.
If I choose to maintain a relationship with someone because I think that it's mean to not be friends with them, then I have to accept that I alone am responsible for the time and energy I invest in that relationship.
If I find myself getting all worked up over the idea of someone not liking me, then I have to accept that I am choosing to invest the energy necessary to find out how that person feels about me. And I can tell myself all I want that it's natural or understandable, but the easier choice of least resistance is still, in fact, a choice.
I tend to make the easy choices when it comes to my friendships. I talk to the people who talk to me first. I go back to the people who make me laugh, even if the laughter is hiding a lot of ugly shit. I give in to the fact that sitting around talking shit about people feels so damn good at the moment, and ignore what making that choice says about me in the long run. I surround myself with people who make me feel better about myself for the duration of a party, and choose to put that above people who inspire me to actually be better.
I have, consciously or otherwise, made a lot of easy choices about friends in the past. By the sheer grace of God, I have been fortunate enough to have stumbled upon some friendships with really great people in spite of myself. I have been lucky. I have also, I have to admit, made some really great freaking choices in friends.
EDITED TO ADD because I finally found the words in comments and I think it's relevant enough to point out in the post itself:
"From now on, when I find myself saying "this makes me feel like I did when I was in high school", I hope alarm bells will go off in my head and say "except, you know, now you are NOT… so you've got some choices here that you didn't have back then, Missy.""
Going forward, I'd like to start to making more of those really great freaking choices and less of those easier but not necessarily better choices. I'd like to choose to invest my energy in people whom I respect. I'd like to choose to spend my valuable time getting to know people who emulate characteristics that I admire. I'd like to choose the long-term sense of honor and privilege that comes from knowing you've earned the friendship of a person whose approval does actually mean something to you, in lieu of the short-term rush of just being able to have a good time with someone. I'm not sure how easy these choices will to be make over and over again. After all, the allure of an instant feel good time can be strong.
But now that my husband has gone and made me freaking aware of my own responsibility when it comes to friends and social situations, I think it's going to be hell of a lot harder to blindly continue making the easy choices.
After all, I'm not in high school anymore.
This post was awarded "The Best of Everything".
Find out what that means >>

About the Author

Miss Britt – that's me. I was born in 1980, which means I'm old enough to drink, smoke and vote. I'm happy to say I exercise all of these liberties as needed. It also means I'm entirely too young to have two children and have been married for this long. Do you know what most people my age are doing?
I was born and raised in small town Iowa. In August 2007 my husband and I, along with our two kids, packed up and moved to central Florida – 1400 miles away from everyone and everything we ever knew. It was one of the hardest and most rewarding things I've ever done. You will find me going on and on and on about this across pages and pages of my blog.
My blog is basically an up close and way too personal look at my life. The good, the bad, the embarrassing, the ugly and the crap that happens to everyone, but no one else wants to talk about.

Subscribe to Blog | Her Main Site | Follow Her on Twitter
Here's a playdough recipe for homemade vanilla-scented playdough in pretty ice-cream shades – together with some play ideas to encourage your kids to explore and learn.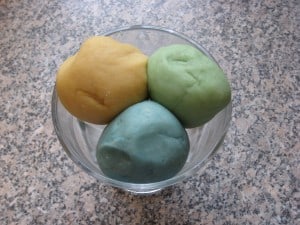 Playdough is such a wonderful material for chidren to explore as there are so many ways for them to play with it. It's an open-ended activity so it allows them to use their imagination and be creative with what they make. It's very good when there's a mixed age group of children playing as they can all join in a way that suits their age and interests. It promotes language development too if you're sat chatting about what you're making or co-operating over sharing materials.

You can add in other resources from time to time to spark ideas for new ways to play – maybe provide some matchsticks, lollypop sticks, cake cases, bottletops or feathers. You can also use a change of location to extend the play possibilities. It's not a very messy substance, and cleans up fairly easily if you don't leave it to harden. (Best on hard surfaces rather than carpet though.) It would be interesting to watch how your children use playdough in the garden, in the toy kitchen or in the dolls house.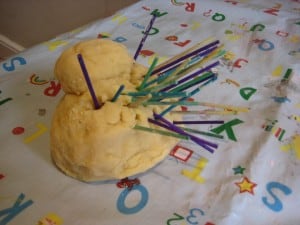 I've been using this family playdough recipe to make playdough for a while but a recent post by Jen over at the The Mad House suggested using essential oils in the mixture to add scent. I loved this idea but as  I wasn't completely sure the children playing here would keep the dough out of their mouths I've used vanilla essence here instead. The addition of natural food colourings produces lovely ice cream-like shades which I much prefer to the lurid shop bought colours. I also like the texture of homemade playdough and it's so cheap and easy to make. Give it a try and I think you'll be making your own from now on.

Here's the playdough recipe – using a measuring jug instead of weighing scales to make it easy.

Warm 750ml of water in a large pan. Add 375 ml of salt, 750ml of flour, 45ml of sunflower oil, 30ml of cream of tartar and 10ml of vanilla essence.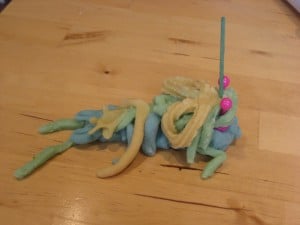 Stir the ingredients together over a low heat. Use a whisk at first to get rid of any lumps and then a wooden spoon until the dough comes together.

Remove the pan from the heat and tip the dough into a large bowl. (If you want to make several different colours you can split the dough into separate bowls at this stage and add a different colour to each bowl. )

Add a few drops of food colouring and knead for a couple of minutes until the colour is evenly spread through the dough.
Let it cool a little and then it's ready to play with. Store in an air-tight jar and it should last for at least a couple of months.
This post was awarded "The Best of Everything". 
Find out what that means >>

About the Author



Cathy James is a mother of two girls and an Early Years educator who runs her own childcare business. She is the founder of Nurturestore, a site dedicated to inspiring parents to give their chidren the best start in life by nurturing them through play.

Subscribe to Blog | Main Blog |  Twitter

My son has been obsessed with coconuts lately, so I have been filling them with green smoothies and it works, he loves it and drinks a ton of it - ha - make it fun and they will drink/eat it.
So I figure it's about time to write more about how and what to feed your children so that they are getting optimal nutrition and so that they will actually SWALLOW the healthy stuff. In a perfect world kids would devour green salads, but as we well know that's never the case. I'm not sure if it's a texture thing or what but those greens always seem to get pulled out of the mouth no matter how well you think you're hiding them.
This whole topic might take a few posts so for now I will start with the pantry basics.
Here's what you will want to keep on hand:
- Coconut Oil (fresh, cold-pressed)
- Green Powder
- Almond Butter (raw)
- Raw Honey and/or Agave Nectar and/or Stevia
- Young Coconuts
- Frozen fruit
- Almond milk (homemade or store bought)
- Fresh (or homemade) Squeezed Orange Juice
- Fresh pressed Apple Juice
- Grains of some sort (i.e. sprouted grains, frozen gluten-free waffles, quinoa, brown rice, oats)
- Gluten-free Cookies* (Kookie Karma or similar products)
- Gluten-Free Crackers (i.e. make own kale chips, or buy rice crackers)
- Bars (i.e. larabar Or again, Kookie Karma, and/or make your own macaroons at home)
- Goats Milk
- manna bread
- Beans (sprouted)
First and foremost I would like to say PLEASE NOTE that there is NO white or refined sugar on this list. Nor is there any fake sugars either. Please throw out ALL soda. I mean THROW OUT. Don't even recycle or give it away, THROW IT OUT!!!!!!!!!!! Soda will ruin your child's temperament and state of optimal health. And please make sure that you check ingredients when buying pre-packaged foods that they too do not contain sugar, brown sugar, cane sugar, corn syrup, brown rice syrup or succunant. (don't worry though, you will not be depriving your child of any sweet yummy foods - they will get their fair share of chocolate and desert).
When your children stay away from these types of sugars you can stop worrying about the sugar highs and lows or too much juice, too much fruit, etc. Fruit and fresh squeezed (juiced) juice is actually very great for the type of energy that kids need. Running around the house and throwing toys all over the place is quite tiring. I know I would need sugar pick-me-ups all the time (or espressos).
Whining children are typically hungry or tired children. It shouldn't be much more than that.
TIRED: If a child is fed properly he or she should not be tired because they will sleep better during the night and also nap longer and better.
HUNGRY: When you feed children high nutrient/energy foods they will stay fuller and more satisfied longer and their blood sugar levels will not spike. This is very important for controlling whining and fits of crying. Kids often need less food (nobody likes forcing kids to eat so this is a GOOD thing) when eating healthfully because their body gets the nutrients that it needs in smaller amounts of food.
Now the hard part (or so you might think): GETTING KIDS TO ACTUALLY EAT THE HEALTH FOODS!!! And how would one make good tasting healthy recipes that kids will eat? That's what I'm here for. All that info is coming in the further posts. Stay tuned.
This post was awarded "The Best of Everything".
Find out what that means >>

About the Author

Juli Novotny is the creator of PUREmamas.com and KookieKarma.com products and a proud mother of two boys under the age of two.
She specializes in kids' health and recipe formulations. In addition to eating raw food, she loves modern design and decor as well.

Subscribe to Blog | Her Main Site | Follow Her on Twitter
Go For it Mom and Dad! You CAN keep your sanity and plan a budget friendly, kid friendly, birthday party for your child right in your own home. Simply consider your guests, your available space, and your inventory. Here's How…
Who to invite?
The guest list should include the friends your child chooses to spend most of his/her free time with. I recommend a guest list of no more than ten and aim for an even number. Know your guests! Kids love to be engaged and challenged and have fun as a result. They are some of the most creative creatures on Earth and tapping into this natural ability also draws out positive behavior. Even better, you don't need a fortune to engage and challenge your guests.
Consider your available space and inventory.
Take some time to dig through your closets and garage. Perhaps you have a large backyard and enough equipment to run some organized games or silly races. Do you have equipment for free play such as hoola hoops, jump ropes, or hopscotch? A good size yard is also a great place to hold a scavenger hunt.
Try to balance energy charged activities with quieter ones. Get out all of those board games (Operation, Twister, Perfection, Charades) that have collected dust since we've made a shift to technological entertainment. You'll be amazed how much they enjoy playing these classic favorites. You can even challenge your guests to create new rules using the same playing pieces.
Also on a quieter yet challenging note, provide your guests with straws or popsicle sticks, glue, tape, and string. Have them work in groups to build a structure strong enough to support a soup can or two or three… It's quite a challenge not to get involved yourself!
If a large backyard or playing area is not an option, perhaps you have a kitchen that could handle baking and decorating cupcakes or pretzels. Kids love getting their hands messy and sampling their own creations.
Do you have a home with several rooms? You can have fun with your child setting up a miniature golf course. One challenging hole per room! A plastic vase makes a great hole and tupperware containers act as tough obstacles.
Lastly, consider the talents of your friends and relatives. Does anyone know karate and would be willing to spend one half hour teaching some skills? Is there a magician in the family that could share some tricks? Does anyone own a karaoke machine or play an instrument?
Favors: Make your activity pull double duty.
Crafts are a great activity and can serve as a favor for each guest to bring home. The craft should be age appropriate and for younger ones take no more then 15 minutes. Make frequent visits to your local craft stores for sale and clearance items. Stock up when prices are comfortable and you will always be ready when your child's birthday rolls around. Creating T-shirts using iron on decals and fabric paint has been successful party activity at our house.
What to serve?
A pasta is an inexpensive crowd pleaser for kids of all ages. Cook up a few pounds of maccaroni in a fun shape, like Fusilli (spirals), Gemili (twists) , Rotelle (little wheels) and serve it plain in a large pan. Let kids dress the pasta the way they wish by putting out butter, Marinara Sauce, Parmesan Cheese, the pastabilities are endless. Add a tray of fresh veggies and dip. You can feed the adults at the party too and they will appreciate a break from pizza and chicken nuggets!
This post was awarded "The Best of Everything". 
Find out what that means >>

About the Author



The Partybluprints Blog is a Real Girls' resource for entertaining in style. Its mission is to bring you the latest news, hottest trends and most importantly, tips and ideas for entertaining in your home.  Its mantra is "simple and special" – the rule for each and every post.  Our wish is to inspire you to celebrate life – in real life!
Subscribe to Blog | Main Blog |  Twitter